Mining High Noon
See: Main_Page, Mining_Sunrise_Phase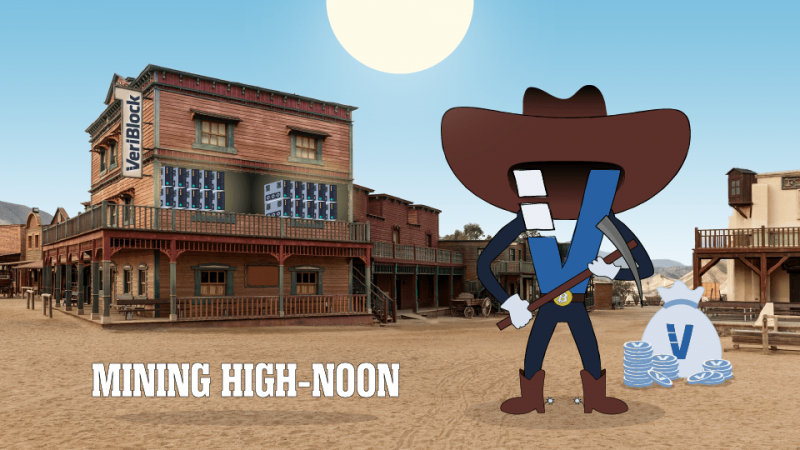 All non-zero balances from high-noon will be reflected in MainNet at 1:1.
Overview
Initial message on Telegram, 9/13/2018
ANNOUNCEMENT: Mining Sunrise Ending Thursday September 13th at block 176000. Mining High Noon Starting Sept 14, Friday, 1pm EST

After a very valuable 2 months of testing (involving over 29,000,000 PoP transactions on tBTC which paid fees in excess of 100,000 tBTC), we will be ending our Mining Sunrise phase and moving into our next phase: "Mining High Noon," prior to our MainNet launch. A big thank you to the tBTC community and faucets for the high PoP load.

VeriBlock Testnet will be reset with a new genesis block, with all balances being moved over.
- All balances as of block 176000 will be moved over. 
- We anticipate this block to occur around Thursday Sept 13th between noon and 3pm EST. Mining Sunrise effectively ends as of this block.
- From this time, until "Mining High Noon" is kicked off, essentially mining will be down.
 
Mining High Noon will kick off on Sept 14, Friday, 1pm EST.
 
PoP will now mine to BTC MainNet, it will no longer mine to BTC testnet. This means it will take real BTC to mine for PoP.

We appreciate the valuable testing that Bitcoin testnet has enabled us to do, and look forward to giving back to the Bitcoin testnet community to keep this amazing resource available for other projects of all types in the future.
 
A new 0.3.0 release will be shipped on Github, and everyone will need to upgrade. An upgrade should involve just downloading the latest NodeCore, importing/copying over your previous wallet, and running. As the blockchain will be reset, there will be no bootstrapping file or 170,000+ blocks to sync.
  
FAQ
Q: Can I still use my accrued tBTC to PoP after block 175500 (500 blocks before the 176000 official end, because PoP takes 500 blocks for payout to finalize)?
A: No. We suggest you donate any tBTC back to a BTC TestNet fountain.
 
Q: Can I still mine on VeriBlock TestNet after block 176000 and prior to High Noon?
A: Short answer: No.
Long answer: As the VeriBlock Mining Sunrise network is decentralized, we will not (and can not) take it down. As a result, mining will still technically work, but coins mined or transferred in those blocks will not be moved over, so best to save your hashing power and effort, and donate your tBTC back to one of the fountains.

Timeline
Sept 13, at block 176000 --> "Mining Sunrise" ends. All balances as of block 176000 will be moved over
Sept 14, Friday, 1pm EST --> "Mining High Noon" starts
MainNet Launch --> TBD
Updates
PoP Miner Update for High Noon
The initial 0.3.0 of PoP Miner has two important issues:
1. It is recommended for a single PoP Miner to at most PoP once per 10 minutes. This is due to limitations with Bitcoin mainnet's treatment of transactions with OP_RETURN outputs, each instance of the PoP miner can only perform one PoP transaction per Bitcoin block. This means that, on average, you will be able to perform one PoP transaction every 10 minutes. Wait until the current operation reports a successful completion before performing another PoP transaction.
2. The automated PoP scheduler is temporarily disabled as a safety precaution. As this is now real bitcoin, we do not want folks accidentally popping too frequently with a "danger zone" fee and lose their BTC. We will add the scheduler back in after a few days.
Per #2, this has been re-enabled on 9/18.
FAQ
How do I see my moved balance in 0.3.0?
Balances should automatically be reflected.
You should be able to see the balance on the explorer (https://testnet.explore.veriblock.org).
You can also copy/import your wallet into 0.3.0, and run NC_CLI getbalance - just as if you were upgrading to the next version.